T
he topic this month is "Fun in The Sun". I'm hoping to prepare everyone for the fun events of summer. To start off with, I am addressing hiking. This list can also come in handy for outdoor day trips, picnicing and beach bumming. Just having a car kit with these items would be a clever idea. Wouldn't you agree? The fact sheet can be found
here
.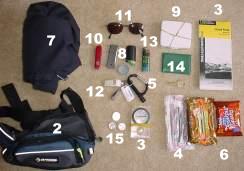 (here is a picture of the items on the list)
Sorry the photo is blurry. The picture and list were found
here
.
I showed the sisters the kit I put together. I love how it fits in a gallon size ziploc bag. My kit looks similar to this one found
here
. This picture is just of the food in someone's kit, but seriously...my 10 essentials fit in this!
I'm looking forward to popping my oh-so-handy kit into my backpack for hiking, beach bag for bumming, or car trunk for a day trip grab bag. I will be adding items along the way, but keeping the basics is the main idea. This week--I'm leaving a challenge for you till next time...
plan a provident trip!